<![CDATA[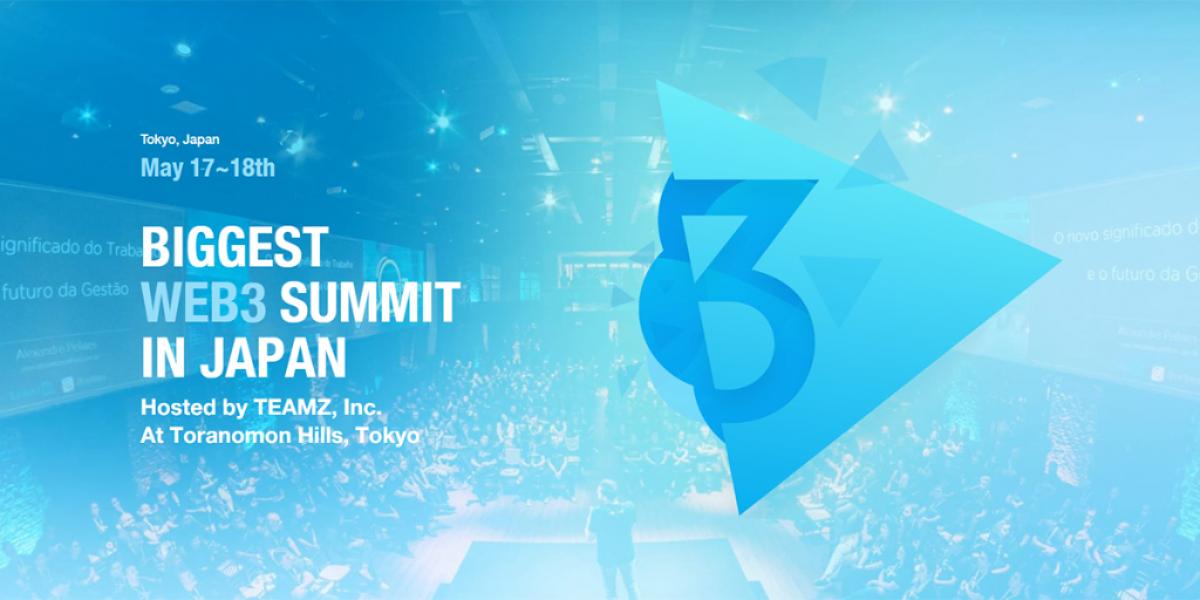 TEAMZ WEB3.0 SUMMIT 2023 will bring together Web3.0 industry leaders, Web3.0 related companies, VCs, media and influencers from around the world!
Under the concept of "boosting the Web 3.0 industry in Japan," the event will provide an opportunity to deepen understanding of the Web 3.0 industry, to visualize the fusion of your business and Web 3.0 services, and to create business collaborations on a global scale.
TEAMZ WEB3.0 SUMMIT 2023, Japan's largest Web3.0 conference, will be held at Toranomon Hills (Minato-ku, Tokyo) on May 17 (Wed) and 18 (Thu), 2023.
Under the theme of "Web 3.0, From Here," this event will contribute to the realization of enhanced global competitiveness through the diffusion of Web 3.0 services in Japan.
Web 3.0 is the Key to Japan's Breakthrough
In response to the growing Web 3.0 business worldwide, the Japanese government has made Web 3.0 a pillar of its growth strategy, and is focusing on improving the business environment by easing the current system. At the same time, as new business models such as NFT, Metaverse, Blockchain, DAO, and GameFi are born and technological development continues, companies are required to expand their business fields that integrate digital and reality.
In fact, major companies are actively investing in Web 3.0 businesses, and many industries, including telecommunications, banking, and finance, are focusing on token issuance, wallet development, the establishment of exchanges, and the introduction of blockchain through collaboration to create a social infrastructure that integrates digital technologies. Web 3.0 projects by startup companies are also rapidly increasing, and Web 3.0 business models that are connected to our daily lives, such as certificates for brand-name products and NFT concert tickets with limited-edition videos, are being born every day.
In the new era of 2023, let's take advantage of Japanese technology and ideas in the Web 3.0 field and enliven Japanese society from the Web 3.0 field.
Outline of TEAMZ WEB3.0 SUMMIT 2023
Under the concept of "enlivening the Web 3.0 industry in Japan," approximately 100 top speakers from the Web 3.0 industry, 120 VC & investors, 60 exhibiting companies, 50 major media companies, and 400 influencers will gather at the event. The event attracts attention from around the world.
This summit has been held as the "TEAMZ Blockchain Summit" since 2018, and in 2019, the "TEAMZ Blockchain Summit Asia" was held in Malaysia with the support of the Malaysian government and the royal family and it was very successful. (The summit was cancelled in 2020 and 2021 due to a new type of coronavirus infection.)
We are looking forward to your participation in this Web 3.0 event, which is still rare in Japan, in order to survive in this new era.
Event Outline
Event name: TEAMZ WEB3.0 SUMMIT 2023
Date: Wednesday, May 17 and Thursday, May 18, 2023
Venue: Toranomon Hills
Number of visitors: approx. 3,000
Speakers: approx. 100
Number of VC and investors: approx. 120
Media: approx. 50
Exhibitors: approx. 60
Official Website: https://web3.teamz.co.jp
Tickets: https://web3.teamz.co.jp/ticket-list
Speakers
https://web3.teamz.co.jp/speaker-2023
Past Speakers
Anthony Pompliano (Co-founder, Morgan Creek Digital), Charles Hoskinson (Founder, Cardano; Co-founder, ETH), Joe Zhou (Senior Vice President, HKEX), Ben Goertzel (CEO, SingularityNET), Patrick Dai (Founder & CEO, Qtum), Travis Kling (Founder & CIO, Ikigai Asset Management), Jeffrey Wemick (Bitcoin, Uber, Airbnb, Qtum Advisor), Yasuaki Matsumoto (Chief Senior Consultant, Fujitsu Research Institute Ltd), Hitoshi Taguchi (CEO, DMM Bitcoin), Takafumi Horie (Founder, SNS Media Consulting Inc), Roger Ver (Chairman, Bitcoin.com), Larry Sanger (Executive Director, Wikipedia Knowledge Standards Foundation), Franklyn Richards (Director, Litecoin.com), Shinichiro Isago(Director, Strategic Planning, LINE Corporation)
Past Participating Companies
LINE, Microsoft Japan, IBM, Fujitsu, Boardwalk Capital, Accenture, Node Capital, DMM Bitcoin, Qtum, Genesis Group, Quoine, Litecoin, HUBLOT, etc.
Tokyo Web 3.0 Week will be held at the same time.
From May 15 (Mon) to May 21 (Sun), 2023, Tokyo Web3.0 Week will be held before and after the TEAMZ WEB3.0 Summit, where various projects from Japan and abroad will hold side events. The event will be held at the Tokyo Web3.0 Week, which is a series of side events organized by Web3.0 related companies, offering high quality content, influential networking, and business expansion opportunities.
What is TEAMZ, Inc.?
TEAMZ, Inc. is a digital creative group that provides business strategies and solutions to Web 3.0 related companies seeking new possibilities. TEAMZ, Inc. is a digital creative group that provides business strategies and solutions to Web 3.0 related companies that are looking for new possibilities. We will lead the Web 3.0 industry in Japan by providing one-stop, full-scratch development from start to finish.

Official HP: https://www.teamz.co.jp

For inquiries about the event, please contact the following e-mail address

]]>